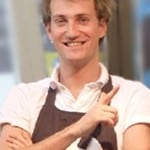 Axel Le Pomellec,
said the Breton
Ideas, Axel has always had them.
But selling crepes to take away in Paris, Nice, Lille or elsewhere, as good as at the Ker Royal creperie in Plougoumelen, this idea, he has always had it.
It is certainly the entrepreneurial spirit which he inherited from his great-grandfather, Pierre Cossé, a biscuit maker in Nantes, which today encourages him to launch Crêp'eat®. The gluttony and ingenuity of his ancestor flow freely through his veins.
A Breton temperament? Yes, Axel only does what he likes. From Morbihan to Nantes, Paris, Nice, Lille or New York, go-getter, determined, guided by curiosity and enthusiasm, he keeps his pancake project in mind and strengthens his experience.
His career in finance and real estate confirms his taste for team challenges.
His meeting with Tristan is decisive: the team is formed, the idea can materialize. In September 2010: Axel and Tristan definitely leave their suit and tie, get married (each on their side) and launch Crêp'eat®!
For Axel, the pancake is made with sugar, with a lot of salted butter in it. The one that smells of the Gulf of Morbihan and childhood.
And Crêp'eat®? The identity for the crepe, with a touch of modernity and a lot of authenticity.
Ideas, Axel will always have them…
Tristan Poussard,
Said the Auvergne
Tristan knows where he is going.
It is not for nothing that he has Auvergne origins: he likes rigor, enterprise, effort and the pump with grattons, a kind of brioche in which the butter is replaced by bacon bits.
At 20, he wants to travel. After his studies in Paris, he headed straight ahead into a demanding professional world, auditing. He travels the world, exchanges with all cultures.
His taste for others takes more and more space. He feels the soul of an entrepreneur and is on the lookout for The good idea to launch.
In 2009, he literally melted in front of a chocolate bar in Australia and took a Creation leave. A few months later, his brother introduced him to Axel, a Breton in body, whose mind was then occupied with pancakes.
It's decided, the chocolate will end up on the pancakes… In September 2010: Tristan and Axel finally leave their suit and tie, get married (each on their side) and launch Crêp'eat®!
The crêpe, for Tristan, is the complete pancake from the Bleue crêperie on the Ile d'Yeu, the one that marks each end of the holidays in Vendée.
And Crêp'eat®? A quick, nice lunch and above all: The pancake with a capital "C". The one that everyone recognizes, with the good taste of childhood, grated cheese, ham cooked in a cloth and fresh egg.
This is the taste of others: Tristan wants everyone to find their way around, that everyone recognizes what was a childhood habit.
Tristan knows where he wants to take you…